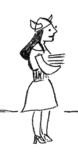 Iakfen
Secretary - Sales Department
She is Ignor's young and loose personal secretary. Her position is not that demanding and therefore often works with Ahreel in the sales department.
She doesn't have any particular talents but, strangely enough, is often present during manager and directors reunions thanks to the special consideration given to her by Ignor and the president's son Iskson.
Apart from those who are useful to her and therefore must be kind to, she usually behaves stupidly or pompously mean.