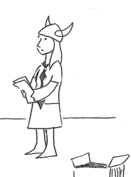 Ahreel
Employee - Sales Department
She works in the sales department and her duties vary she's one of the company's new recruits,in other words they make her do a bit of everything and especially those things that no one else wants to do.
She's shy and reserved but at times her dark side surfaces: rebellious and stubborn.
She's definitely one of the more intelligent characters in the sales department and stands out for the quality of her work and not because she's somebody important's daughter ... or because she gave it to... but like all skilled workers with little self awareness, she is used, under paid and never appreciated.