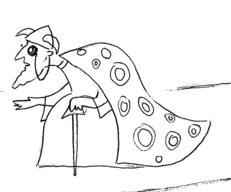 Uton
Managing director and treasurer
Uton has been in the company from the beginning (when it all started) and occupies the role of managing director. He is very old, nobody knows exactly how old ... some say over a hundred (others think he is immortal or some kind of supernatural being).
He is a negative presence but not like the others, he knows what he wants and how to get it except when his old age plays tricks on him. He never let's anyone know what he is thinking and skillful, he always turns the situation to his favour.
He sometimes reveals a mystical side with supernatural powers like a demon. Things don't seem to have changed much now days with the managing director's position from the viking era.